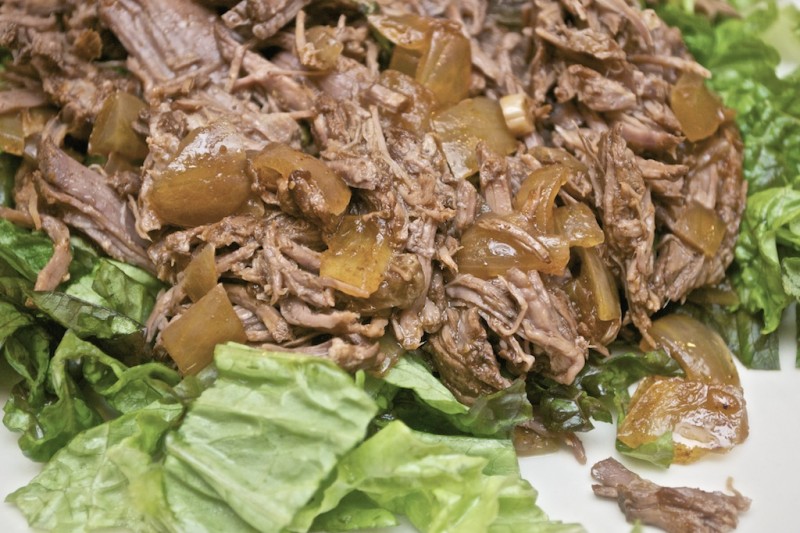 Mexican food is some of my favorite, but being paleo makes it hard. No corn? No cheese? No sour cream?! Thankfully, there are lots of Mexican spices I can use. Armed with pico de gallo, guacamole, some olives, and this recipe for shredded beef, you won't be missing much Mexican food.
Ingredients
2 tbsp EVOO
2 pounds beef, boneless chuck roast
1 tsp chili powder
1/2 tsp cumin
1/2 tsp smoked paprika
1 cup beef stock
2 tbsp tomato paste
1/2 large sweet onion, diced
4 garlic cloves, minced
1 head lettuce
Directions
Cut beef into a couple manageable pieces.
Combine the chili powder, cumin, and smoked paprika in a small bowl.
Rub the spice mix into the beef, covering each side evenly.
Heat the olive oil in a large, heavy skillet over medium-high heat. Once the oil is hot and shimmering, place the beef in the skillet and sear on each side.
Remove the beef from the skillet and place in the bottom of a slow cooker.
Turn the heat of the pan down to medium and add beef stock to deglaze, scraping any browned bits from the bottom of the pan.
Add the tomato paste and whisk into the pan sauce. Bring the sauce to a boil, reduce the heat to medium-low, and simmer for a few minutes until the sauce has reduced and thickened slightly.
Add the diced onion and minced garlic on top of the seared beef in the slow cooker.
Pour the pan sauce over the onions, garlic, and beef. Cover and cook on low for 6-8 hours.
Remove the beef from the slow cooker and shred with two forks. Use a slotted spoon to remove the onions from the slow cooker, and mix into the shredded beef.
Serve the beef on top of a bed of shredded lettuce along with your favorite toppings. I like pico de gallo and guacamole.
(Via Gimme Some Oven)